Anchorage Brochure Distribution LLC has been in business since 1979. For 35 years we've been helping Alaska tourism businesses with the most affordable and effective advertising. Advertising your business is our business.
Anchorage Brochure Distribution LLC is committed to reliable, outstanding, customer service.
We recently received an award from the Anchorage Convention and Visitors Bureau for outstanding service to the tourism community.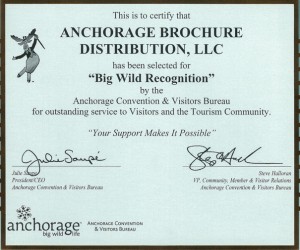 We store your advertising literature at our large and modern warehouse where it is then loaded as needed into our company trucks driven by professional drivers and distributed to be displayed in our attractive rack card displays.
We deliver to over 40 hotels and businesses in the Anchorage area including, Ted Stevens International Airport, Anchorage Rail Road Station, and Joint Base Elmendorf Richardson.
Our company also stores and delivers city visitor guides in Anchorage for Anchorage Convention and Visitors Bureau as well as the Seward, Kenai, Soldotna, Homer, Fairbanks, Mat-Su, Kodiak, Valdez, and Juneau visitors bureaus.

We are honored and look forward to expanding our professional service to more of this wonderful state and meeting many new clients.
For example, a few of the locations we distribute to are listed below.
ABC Motorhome rental, Alaska Car & Van Rental, Anchorage Grand Hotel, ,Extended Stay Midtown, Aspen Extended Stay, Best Western Golden Lion, Barrett Inn, Chelsea Inn, Clarion Suites, Comfort Inn, Comfort Suites Airport, Courtyard by Marriott, Marriott Downtown, Anchorage guesthouse, Puffin Inn,
Elmendorf Armed Services Y, Elmendorf Travel Center, Elmendorf
Outdoor Rec. ,Executive Suites, Ft. Richardson Armed Service Y, Ft.Richardson
Lodging, Ft. Rich-Outdoor Rec., Girdwood bake shop, Golden Nugget Camper
Park, Hawthorne Suites, Howard-Johnson Hotel, Long House Alaskan, The Alex, Midnight Sun Auto Rental, NEW Ramada Inn Downtown, Springhill Suites by Marriott, 4th Avenue Marketplace, The Inn at Whittier, Elmendorf North Star Inn, Super 8 Motel, Clippership Motorhome rental, Marriot University Lake, Portage Visitor Center.
We also supply literature to many hotels and businesses that do not have one of our displays.
When you leave it to Anchorage Brochure to distribute your business rack cards… Get used to more customers